OUR MISSION:
Give voice to victims, their families, and communities;

Create change in beliefs, attitudes, and behaviors about sexual violence; and

Instill courage for people to speak out about sexual assault.
A message to supporters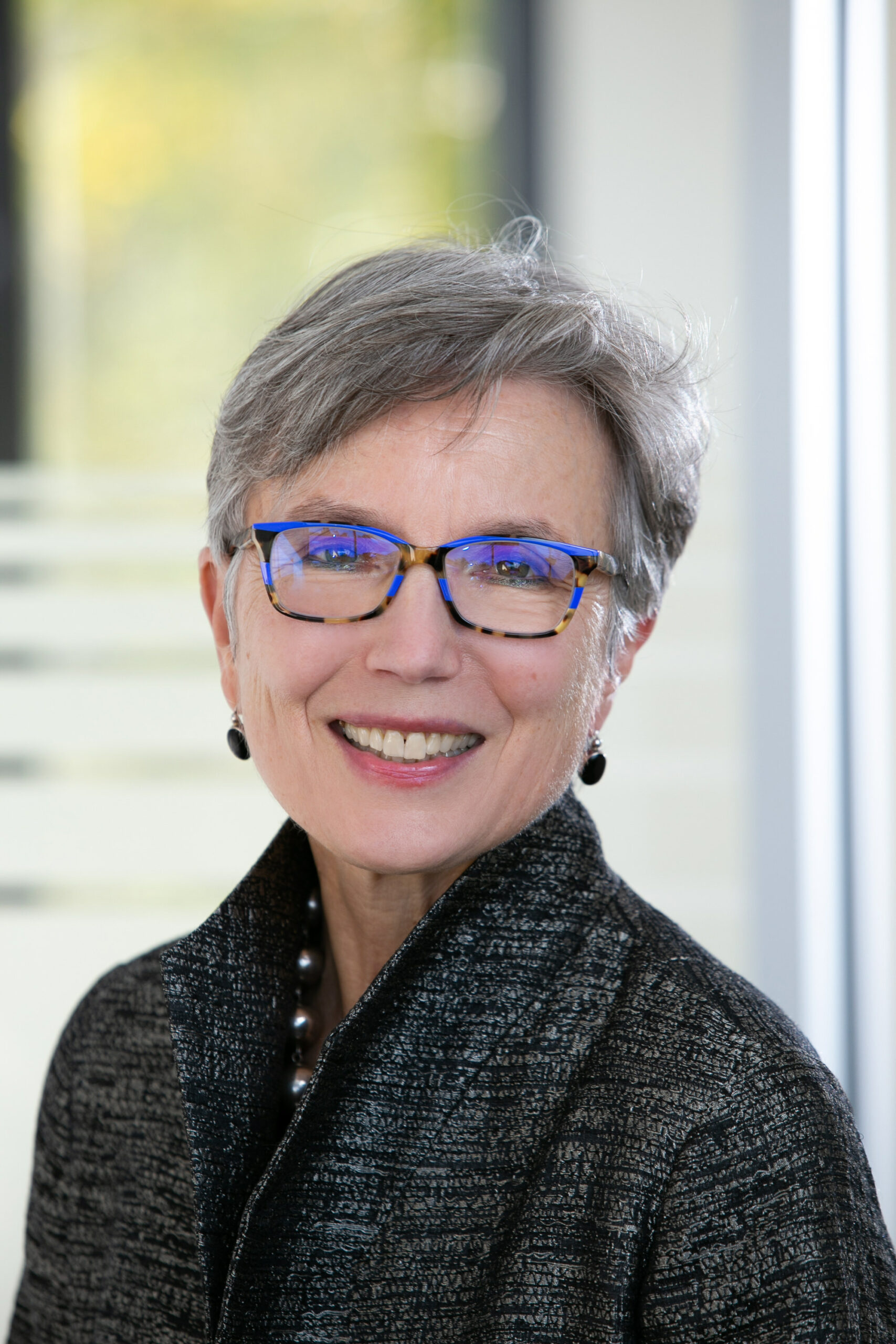 One of the ways we measure impact is by the number of lives that have changed because support was available — support you made possible when you chose to partner with the King County Sexual Assault Resource Center.
Last year, 5,059 individual survivors and their family members found the courage to speak out and find their own resilience to recover from trauma. Through direct, in-person prevention education and indirect, online outreach, resources and information about sexual assault were accessed by more than 73,000 people in the community.
These two pieces of data are connected in a virtuous circle: the more who know how to get help for themselves — or to help others who disclose to them — the more survivors can access supportive services, and the further we alleviate trauma effects.
This is what progress looks like.
We have reported for the last several years that more survivors than ever have found resources and support at KCSARC. It's astonishing to realize that since 2017, those numbers have grown 23%.
RESPONDING TO CHANGE
In a year that could have stretched any nonprofit to the breaking point, our staff has pulled together to do what is best for our clients and community, and showed what resilience looks like amid more change and transition.
In late 2021, our long-time deputy executive director and program manager DeAnn Yamamoto announced she would retire after 38 years. Those were big shoes to fill to say the least. Thanks to good pre-planning and to DeAnn's strategic leadership and foresight in cultivating a talented and committed group of program managers, an experienced team of leaders has emerged to capably take the reins.
Former clinical manager Larraine Lynch is now KCSARC's Chief Program Officer, and has approached her new role with energy and vision. She oversees a team of directors, each focused on core pillars of our work: Laura Lurry directs client advocacy; Agustina Eiff directs clinical therapy; and Chris Johnson directs prevention education. This team is bringing both continuity and fresh ideas to the table, and I am excited about where KCSARC programs are heading.
RESPONDING TO LATINX SURVIVORS 
One of our fastest-growing programs is Dando Voz, which served 31% more Latinx survivors and their family members in 2021 than the previous year.
KCSARC's bilingual therapists, family educators and advocates build linguistic and cultural relevance into all services to restore hope for recovery, safety and stability. Our Dando Voz therapy staff is doing cutting-edge work that makes gold-standard, evidence-based practices even more effective. We have begun to be recognized for this work internationally, and have been sharing our experience with other community mental health providers across the country in the hope of making this highly effective treatment available to more survivors.
While we must continue to assist survivors after an assault, we look to prevention programming as the upstream solution that will stop perpetration from happening.
PREVENTING SEXUAL ASSAULT
Research tells us stopping the perpetration of sexual assault begins by shifting behaviors and attitudes that have for too long poisoned the water that young people swim in. Clearing that water takes steady, committed engagement, but starting early and offered in age-appropriate, consistent dosages, we know change is possible.
Over the past year, a combination of private and public funding has allowed KCSARC to increase our prevention education staff, which is now at three full-timers. With this in place, we can implement proven effective prevention programming that we had begun in the Renton School District, amass data to continually improve and, hopefully, scale it up.
SYSTEMS CHANGE
We raised our voices over the last year not only for individual survivors, but for systems changes that better respond to victims who engage in the criminal justice system.
At the local level, The Long Wait report exposed the unacceptable, lengthy wait for resolution of legal cases that survivors experience in King County. At the state level, we joined forces with sexual assault organizations across the state to focus lawmakers' attention on the rights of victims to assistance and protection.
ANTIRACISM AND EQUITY
Overarching all of our work is the recognition that structural racism and oppression is baked into systems in which we operate. Like many organizations, ours is not immune to internal inequities and biases. There is no short-cutting the work involved in building an authentically antiracist, equitable and inclusive culture at KCSARC.
After many years building the foundations, I'm pleased to report we reached some important milestones this year. That includes empowering a committee of staff to lead an Anti-Racism and Equity Initiative, conduct an audit and create our first foundational plan to give us an actionable way forward. I look forward to reporting more progress.
Your partnership sent a powerful signal of hope for survivors and helped remove barriers to ending sexual assault in a very challenging and uncertain year. You made certain that services remained available to every survivor who sought help, and you strengthened our engagement with young people and communities to end sexual violence.
I am humbled and inspired by your commitment to our shared vision: a world free from sexual violence.
With gratitude,

Mary Ellen Stone, CEO
Your partnership meant new hope to thousands of courageous survivors like Jessica and Karen.
"Healing has helped me find my world of sparkle."
"…It was something I'd avoided for years…I love my life now."
CLIENT DATA OVERVIEW 2021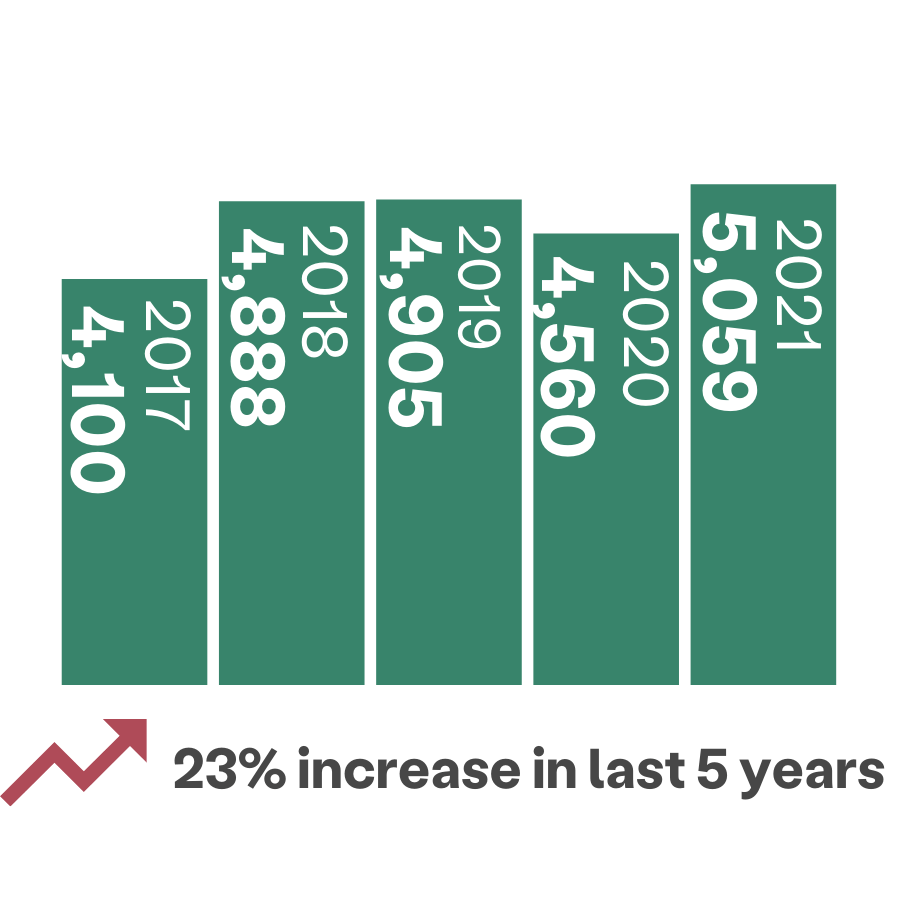 More than 5,000 people found the support they needed to recover at KCSARC in 2021.
That's a
23% increase
in the
last 5 years.
Click each icon below for more information about specific services and programs.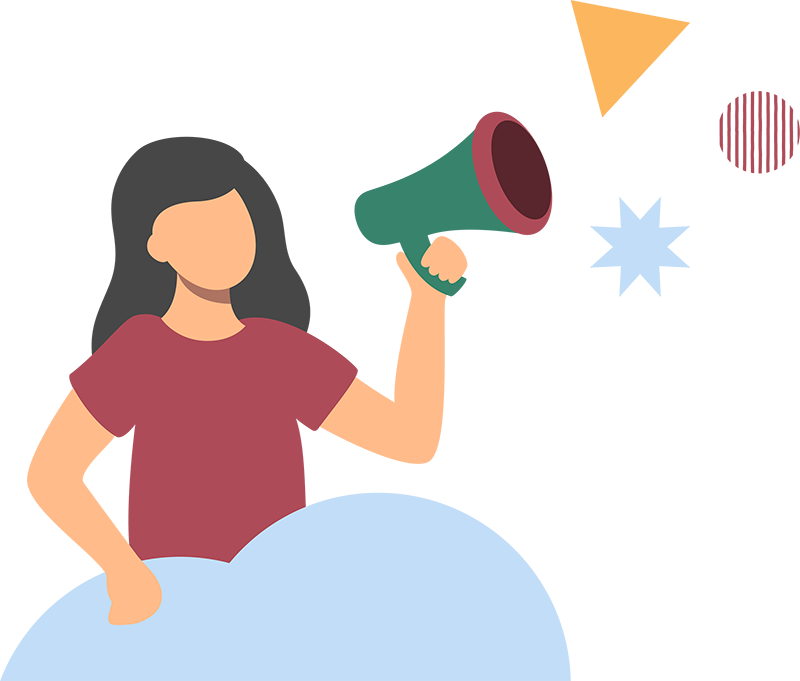 We delivered powerful lessons about boundaries, consent, and healthy communications from classrooms to our online channels.
Combined, we equipped more than
70,000
individuals to actively engage in ending sexual violence.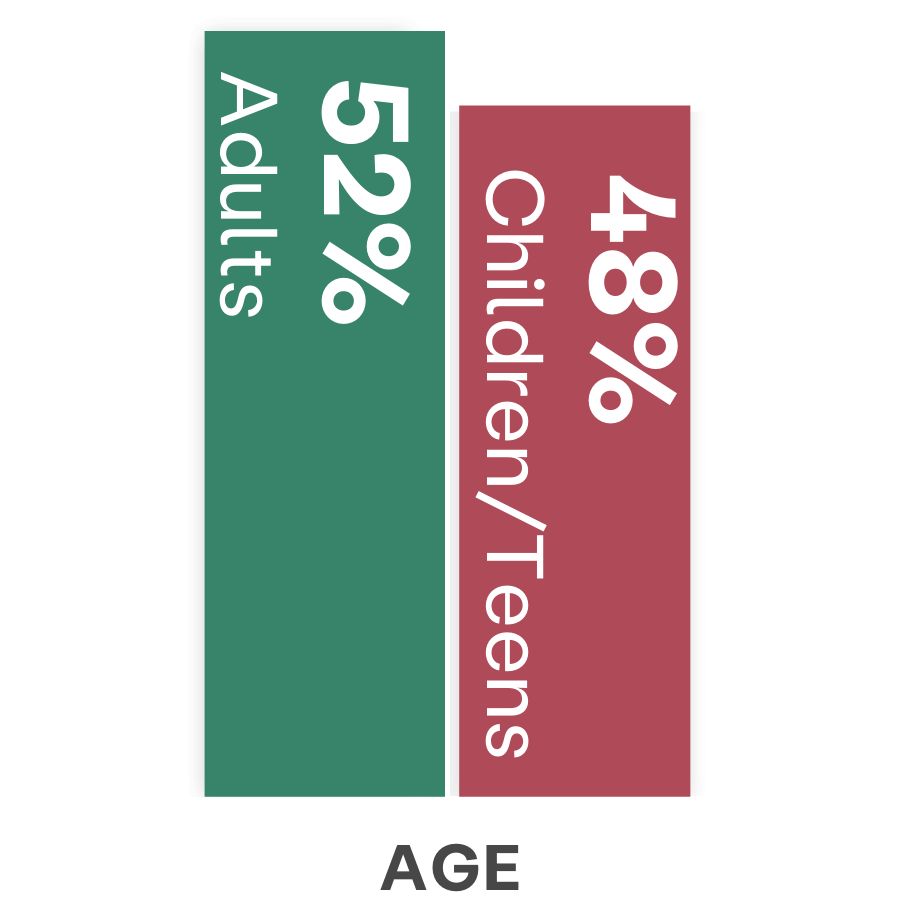 Last year,
almost half
of those KCSARC served were
children & teens.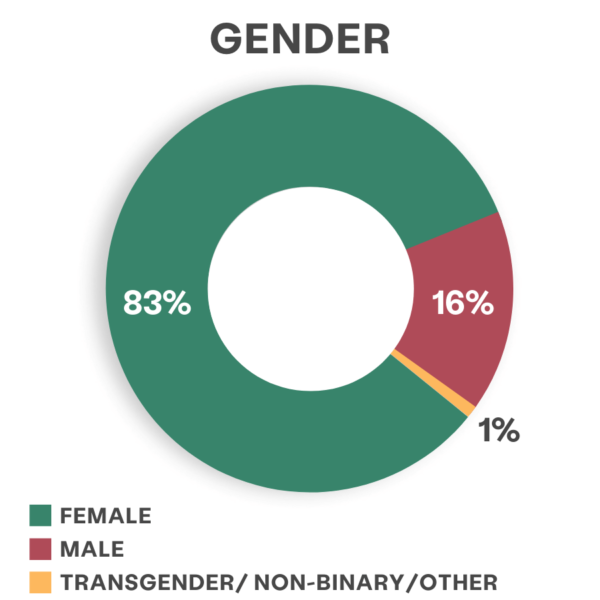 The majority of KCSARC clients identify as female. But KCSARC serves a significant number (click image to continue reading)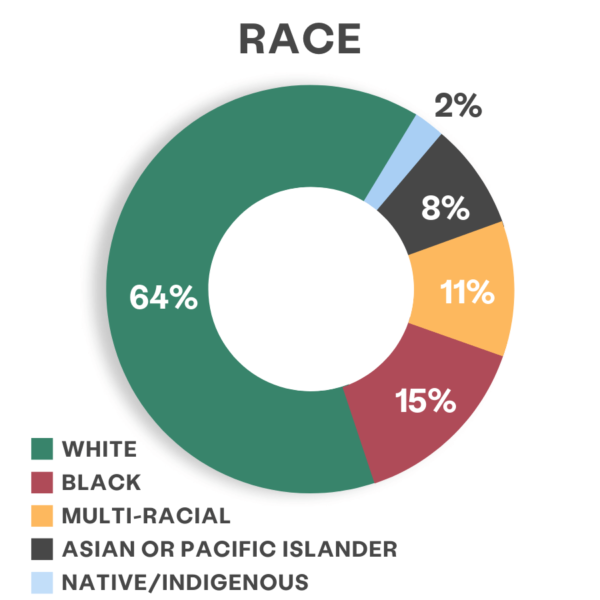 Not all clients choose to share their racial identity. Of those who did in 2021, (click image to continue reading)
Not all clients choose to share their racial identity. Of those who did in 2021, a significant percentage identified as Black, Indigenous, and people of color. 15% of all clients who identified their race indicated they are Black, and another 11% identify as multi-racial. People who identify as Asian or Pacific Islander comprised 8% of KCSARC's clients, while native/Indigenous survivors accounted for 2% of those who disclosed a racial identity.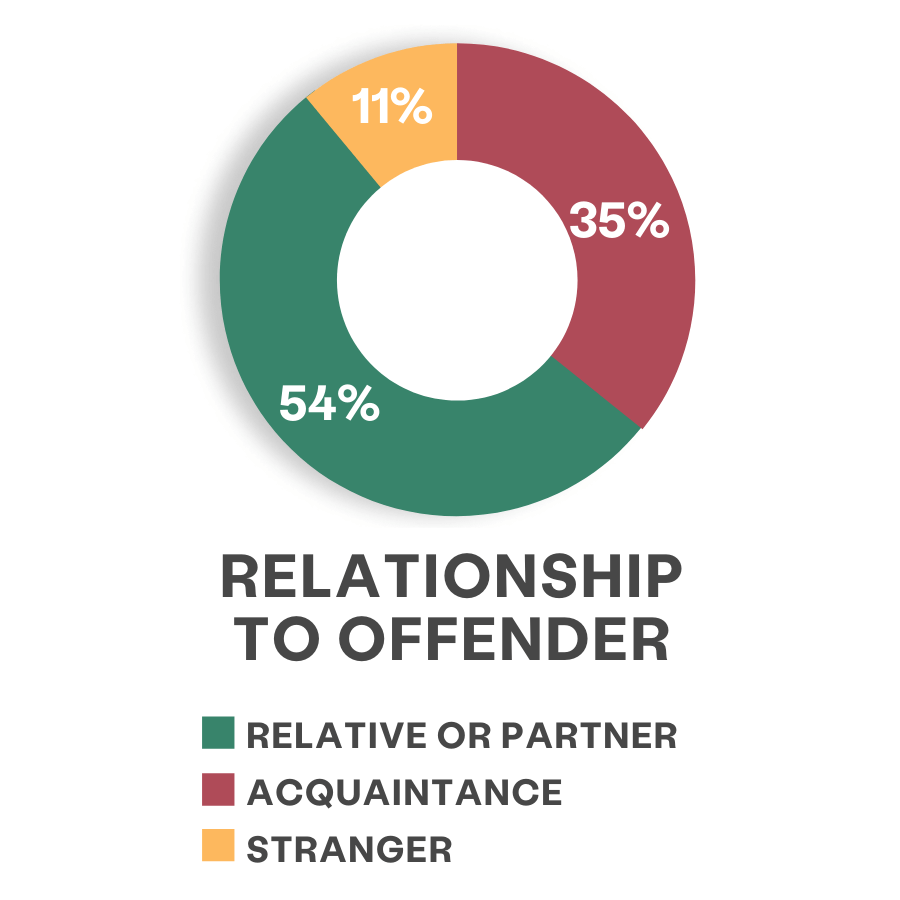 In 2021, the vast majority of clients
— 89% —
knew the person who assaulted them.
Just 11%
of victims whom KCSARC supported
were assaulted by a stranger.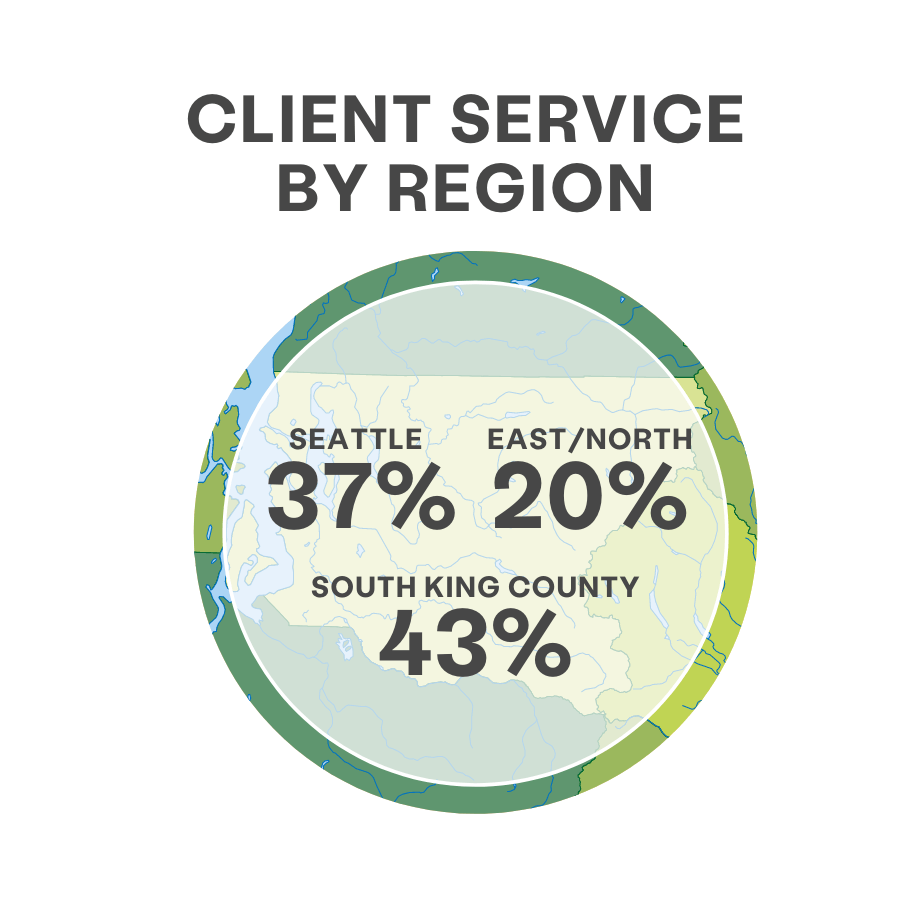 KCSARC supported survivors from every city in King County.
Almost half of our clients live in South King County.
Private Contributions ……………………. $1,982,406
Government Grants/Contracts…….  $4,977,974
Fee for Service ……………………………     $322,434
Misc. & Investment Revenue …….         $12,436
Total Revenue ………………………………… $7,295,250
Program Services ………………………… $ 5,403,690
Management & General ………………. $       816,559
Fundraising & Communications ….  $  1,  182,319
Total Expense ………………………………. $ 7,402,568
WHY DONORS PARTNER WITH KCSARC
"I applaud the important work that KCSARC is doing. You have helped so many people. I am thrilled to be able to support this very worthy and effective organization."
– Winnie Stratton
"For nearly a decade, The Sheri and Les Biller Family Foundation has proudly partnered with KCSARC to support children and youth survivors of sexual violence and their families. We are honored to support the wraparound services that are critical to all survivors and their families to heal and thrive in their communities."
– Audrey Haberman, CEO, The Sheri and Les Biller Family Foundation
"As my four daughters grew up, I was able to see the world through their eyes. I came to believe that it wasn't enough to refuse to accept the world as it was. I had to oppose it. I want to support change. KCSARC is a great way for me to support the change and healing that we desperately need."
– Dave Hamilton, President, Delivery Express Logistics, Inc.
"Immensely grateful for your leadership, advocacy and support for our community. Keep up the good work and look forward to continuing to stay engaged with KCSARC and its efforts."
– Ana Anuradhika
Individuals, Corporations and Foundations contributed $1.98 million in 2021
Private funders in 2021 made sure that survivors and their families could access support the moment they reached out for help, and faced no barriers to service.
That generosity helped us innovate and grow our prevention education and outreach work in the community. As partners in our work, donors empowered young people with the tools they need to stop sexual violence from happening.
Thank you to our 2021 donors & partners
CORPORATE & FOUNDATION PARTNERS
Thank you!
Additional data and financial reports can be found here.