Relatório de Impacto 2021-22
NOSSA MISSÃO:
Dar voz às vítimas, suas famílias e comunidades;

Criar mudança de crenças, atitudes e comportamentos sobre violência sexual; e

Incutir coragem para as pessoas falarem sobre agressão sexual.
Uma mensagem aos apoiadores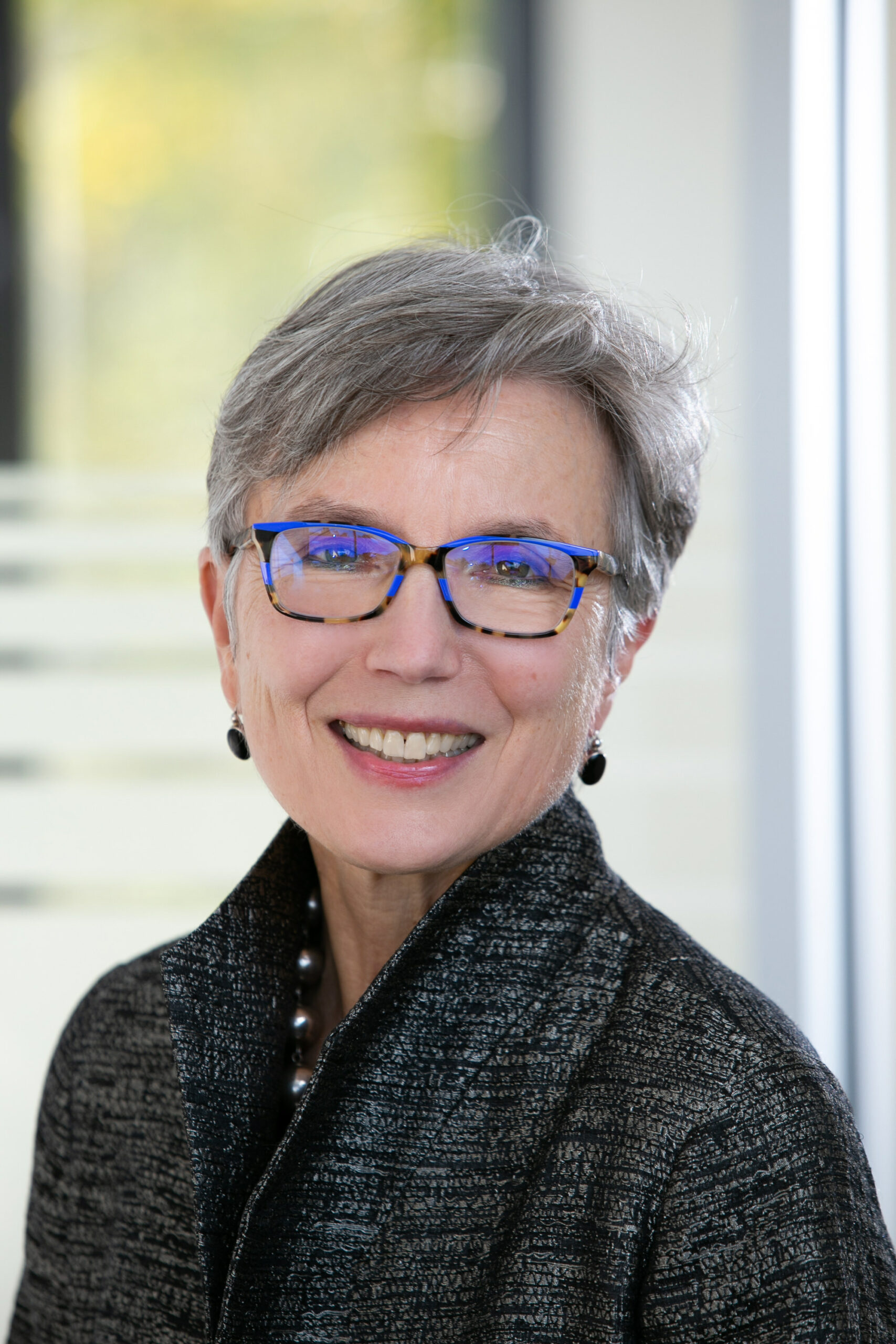 Uma das maneiras pelas quais medimos o impacto é pelo número de vidas que mudaram porque o suporte estava disponível - suporte que você tornou possível quando escolheu fazer parceria com o King County Sexual Assault Resource Center.
Ano passado, 5,059 sobreviventes individuais e seus familiares encontraram coragem para falar e encontrar sua própria resiliência para se recuperar do trauma. Por meio de educação de prevenção direta e pessoal e divulgação on-line indireta, recursos e informações sobre agressão sexual foram acessados por mais de 73.000 pessoas na comunidade.
Esses dois dados estão conectados em um círculo virtuoso: quanto mais pessoas souberem como obter ajuda para si mesmas – ou para ajudar outras pessoas que lhes revelam – mais os sobreviventes podem acessar serviços de apoio e mais aliviamos os efeitos do trauma.
É assim que o progresso se parece.
Relatamos nos últimos anos que mais sobreviventes do que nunca encontraram recursos e apoio no KCSARC. É surpreendente perceber que, desde 2017, esses números crescido 23%.
RESPOSTA À MUDANÇA
Em um ano que poderia levar qualquer organização sem fins lucrativos ao limite, nossa equipe se uniu para fazer o que é melhor para nossos clientes e comunidade e mostrou como é a resiliência em meio a mais mudanças e transições.
No final de 2021, nossa vice-diretora executiva e gerente de programa de longa data, DeAnn Yamamoto, anunciou que se aposentaria após 38 anos. Esses eram sapatos grandes para preencher, para dizer o mínimo. Graças ao bom planejamento prévio e à liderança estratégica e visão de DeAnn em cultivar um grupo talentoso e comprometido de gerentes de programa, uma equipe experiente de líderes surgiu para tomar as rédeas com competência.
A ex-gerente clínica Larraine Lynch é agora Diretora de Programas da KCSARC e abordou sua nova função com energia e visão. Ela supervisiona uma equipe de diretores, cada um focado nos pilares centrais do nosso trabalho: Laura Lurry dirige a defesa do cliente; Agustina Eiff dirige a terapia clínica; e Chris Johnson dirige a educação preventiva. Esta equipe está trazendo continuidade e novas ideias para a mesa, e estou entusiasmado com o rumo que os programas KCSARC estão tomando.
RESPONDENDO AOS SOBREVIVENTES LATINOX 
Um de nossos programas de crescimento mais rápido é Dando Voz, que atendeu 31% a mais sobreviventes Latinx e seus familiares em 2021 do que no ano anterior.
Os terapeutas bilíngues, educadores familiares e defensores do KCSARC criam relevância linguística e cultural em todos os serviços para restaurar a esperança de recuperação, segurança e estabilidade. Nossa equipe de terapia Dando Voz está fazendo um trabalho de ponta que torna as práticas baseadas em evidências padrão-ouro ainda mais eficazes. Começamos a ser reconhecidos por este trabalho internacionalmente e compartilhamos nossa experiência com outros provedores comunitários de saúde mental em todo o país, na esperança de disponibilizar esse tratamento altamente eficaz para mais sobreviventes.
Embora devamos continuar a ajudar os sobreviventes após um ataque, consideramos a programação de prevenção como a solução inicial que impedirá que a perpetração aconteça.
PREVENÇÃO DE ASSÉDIOS SEXUAIS
A pesquisa nos diz que parar a perpetração de agressão sexual começa com a mudança de comportamentos e atitudes que por muito tempo envenenaram a água em que os jovens nadam. , sabemos que a mudança é possível.
No ano passado, uma combinação de financiamento público e privado permitiu que o KCSARC aumentasse nossa equipe de educação preventiva, que agora conta com três funcionários em tempo integral. Com isso em vigor, podemos implementar programas de prevenção comprovadamente eficazes que iniciamos no Distrito Escolar de Renton, acumular dados para melhorar continuamente e, esperançosamente, ampliá-los.
MUDANÇA DE SISTEMAS
Levantamos nossas vozes no ano passado não apenas pelos sobreviventes individuais, mas também pelas mudanças nos sistemas que respondem melhor às vítimas que se envolvem no sistema de justiça criminal.
A nível local, A longa espera O relatório expôs a longa e inaceitável espera pela resolução de casos legais que os sobreviventes vivenciam no Condado de King. No nível estadual, unimos forças com organizações de agressão sexual em todo o estado para chamar a atenção dos legisladores para os direitos das vítimas à assistência e proteção.
ANTI-RACISMO E EQUIDADE
Abrangendo todo o nosso trabalho está o reconhecimento de que o racismo estrutural e a opressão estão embutidos nos sistemas nos quais operamos. Como muitas organizações, a nossa não é imune a desigualdades e preconceitos internos. Não há atalhos no trabalho envolvido na construção de uma cultura autenticamente antirracista, equitativa e inclusiva no KCSARC.
Depois de muitos anos construindo as fundações, tenho o prazer de informar que atingimos alguns marcos importantes este ano. Isso inclui capacitar um comitê de funcionários para liderar uma Iniciativa Anti-Racismo e Igualdade, conduzir uma auditoria e criar nosso primeiro plano fundamental para nos dar um caminho acionável a seguir. Estou ansioso para relatar mais progressos.
Sua parceria enviou um poderoso sinal de esperança para os sobreviventes e ajudou a remover barreiras para acabar com a agressão sexual em um ano muito desafiador e incerto. Você garantiu que os serviços permanecessem disponíveis para todos os sobreviventes que procurassem ajuda e fortaleceu nosso envolvimento com jovens e comunidades para acabar com a violência sexual.
Sinto-me honrado e inspirado por seu compromisso com nossa visão compartilhada: um mundo livre de violência sexual.
Com gratidão,

Mary Ellen Stone, CEO
Sua parceria significou uma nova esperança para milhares de sobreviventes corajosos como Jessica e Karen.
"HA cura me ajudou a encontrar meu mundo de brilho."
"…Era algo que eu evitava há anos…Eu amo minha vida agora."
VISÃO GERAL DE DADOS DO CLIENTE 2021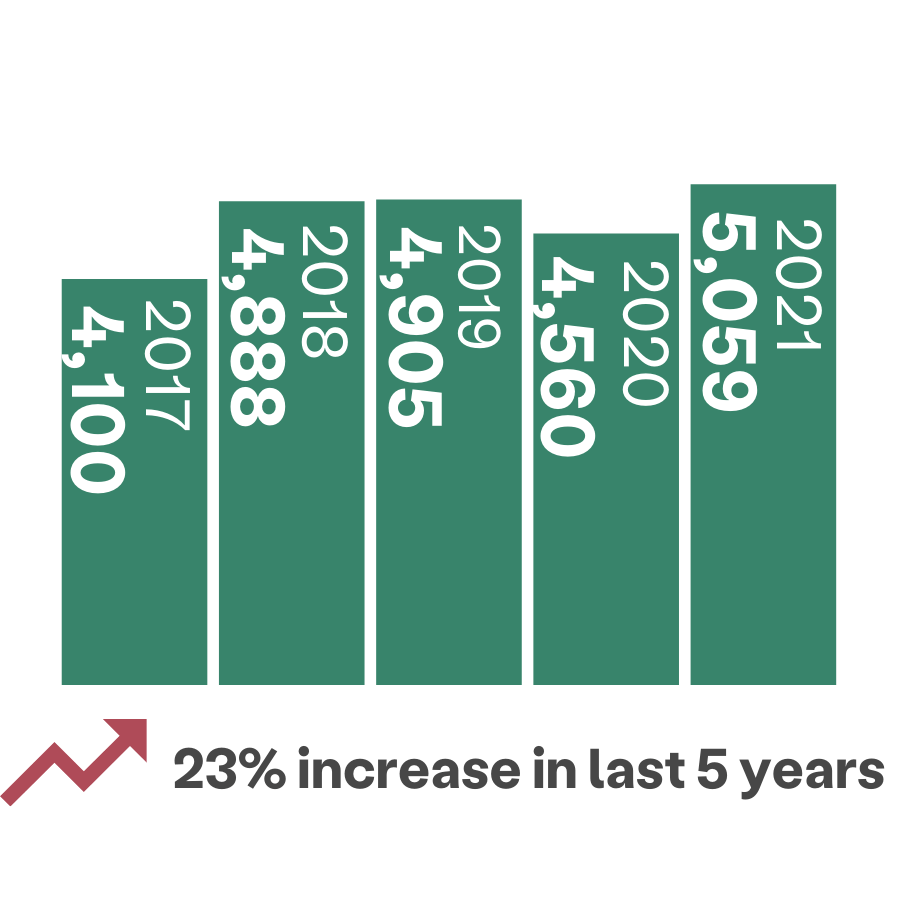 Mais de 5.000 pessoas encontraram o apoio de que precisavam para se recuperar no KCSARC em 2021.
Aquilo é um
aumento de 23%
no
últimos 5 anos.
Clique em cada ícone abaixo para obter mais informações sobre serviços e programas específicos.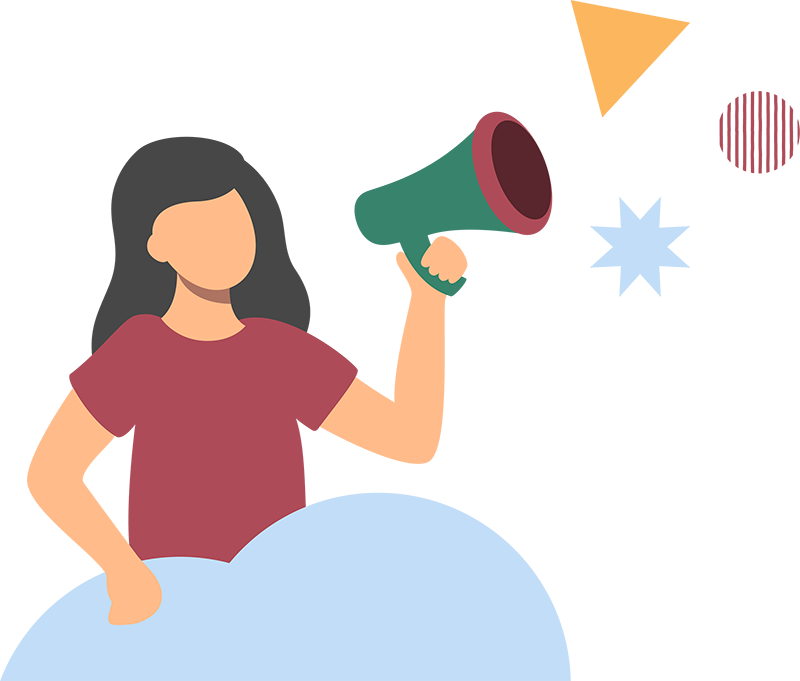 Demos lições poderosas sobre limites, consentimento e comunicações saudáveis desde as salas de aula até nossos canais online.
Combinados, equipamos mais de
70,000
indivíduos se envolvam ativamente no fim da violência sexual.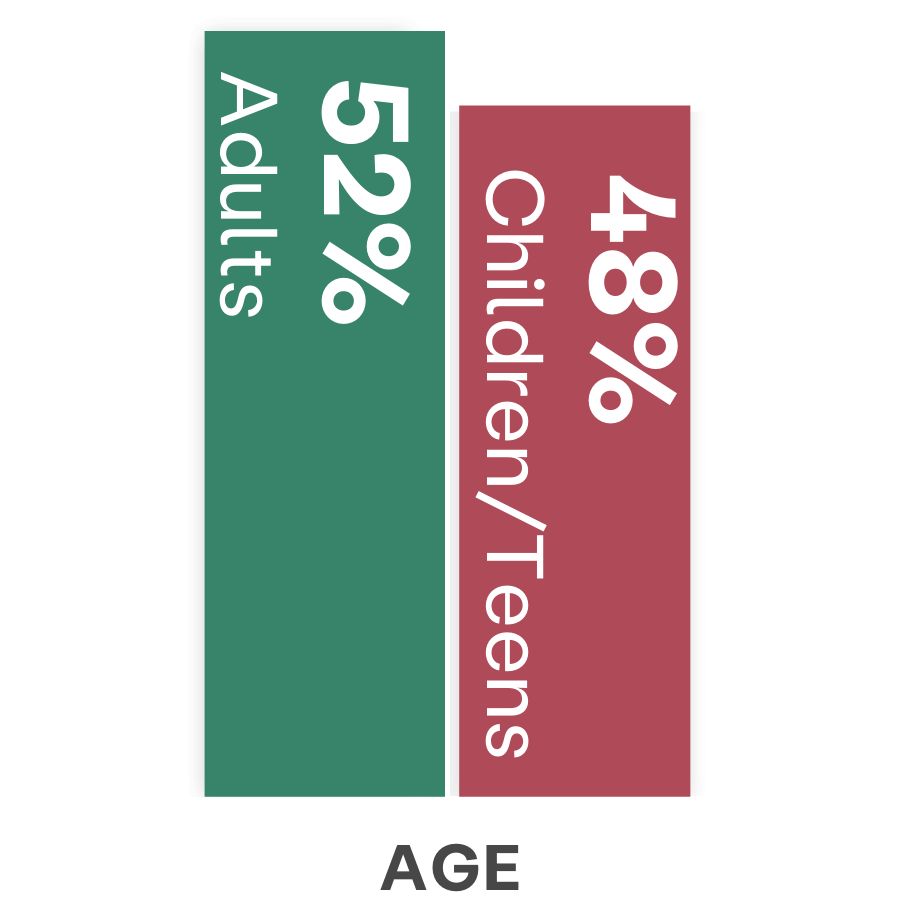 Ano passado,
quase a metade
daqueles atendidos pelo KCSARC eram
crianças e adolescentes.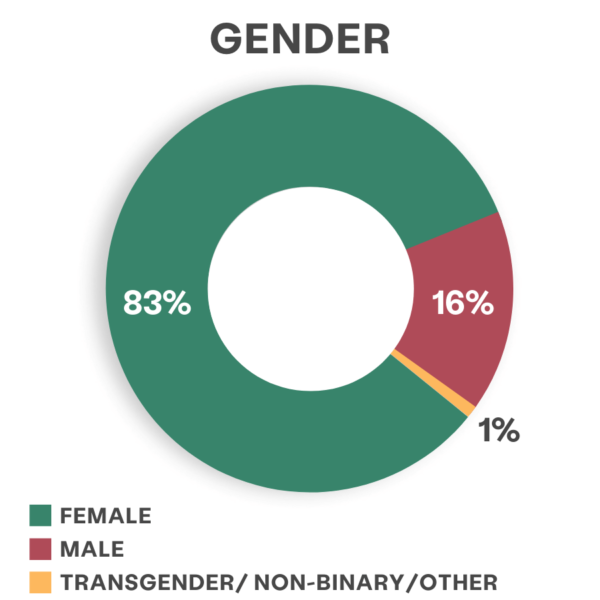 A maioria dos clientes do KCSARC se identifica como mulher. Mas o KCSARC atende a um número significativo (clique na imagem para continuar lendo)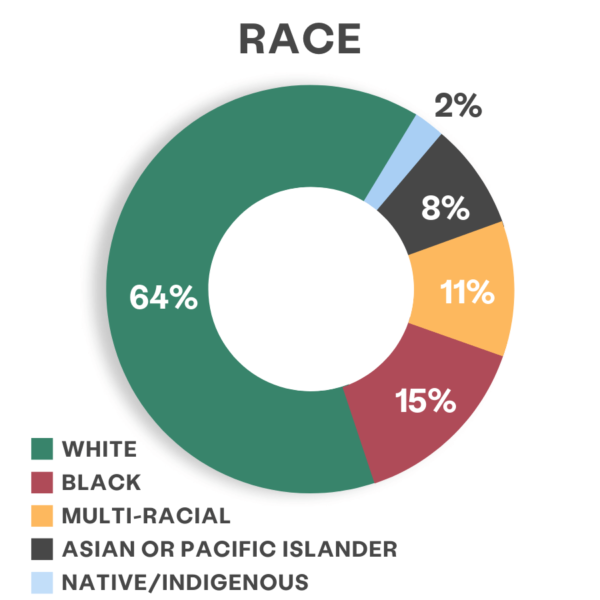 Nem todos os clientes optam por compartilhar sua identidade racial. Dos que fizeram em 2021, (clique na imagem para continuar lendo)
Nem todos os clientes optam por compartilhar sua identidade racial. Dos que o fizeram em 2021, uma porcentagem significativa se identificou como negra, indígena e negra. 15% de todos os clientes que identificaram sua raça indicaram que são negros e outros 11% se identificam como multirraciais. As pessoas que se identificam como asiáticas ou ilhéus do Pacífico representavam 8% dos clientes do KCSARC, enquanto os sobreviventes nativos/indígenas representavam 2% daqueles que revelaram uma identidade racial.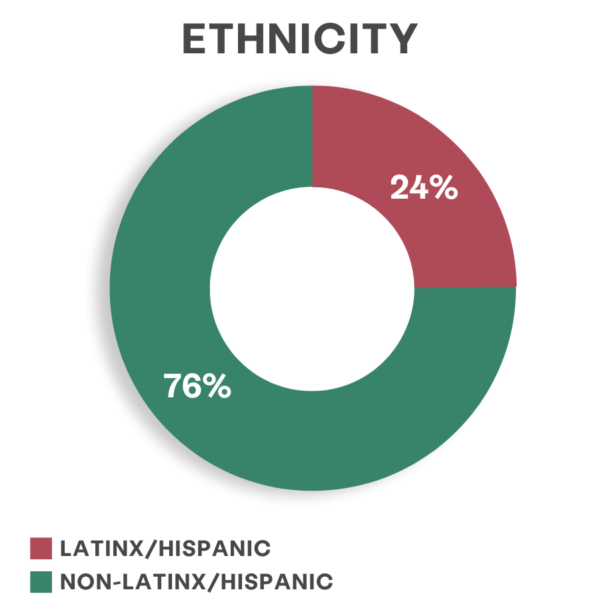 Nem todos os clientes optam por compartilhar sua identidade étnica. Dos que fizeram em 2021, (clique na imagem para continuar lendo)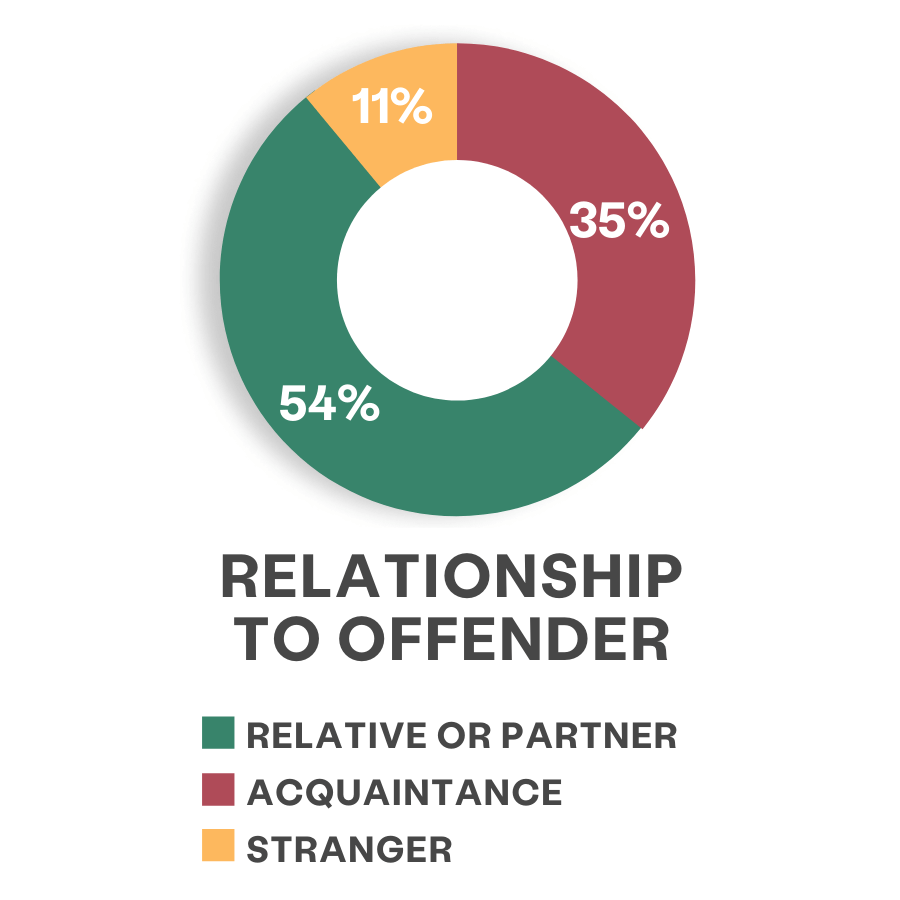 Em 2021, a grande maioria dos clientes
— 89% —
conhecia a pessoa que os agrediu.
Apenas 11%
de vítimas que o KCSARC apoiou
foram agredidos por um estranho.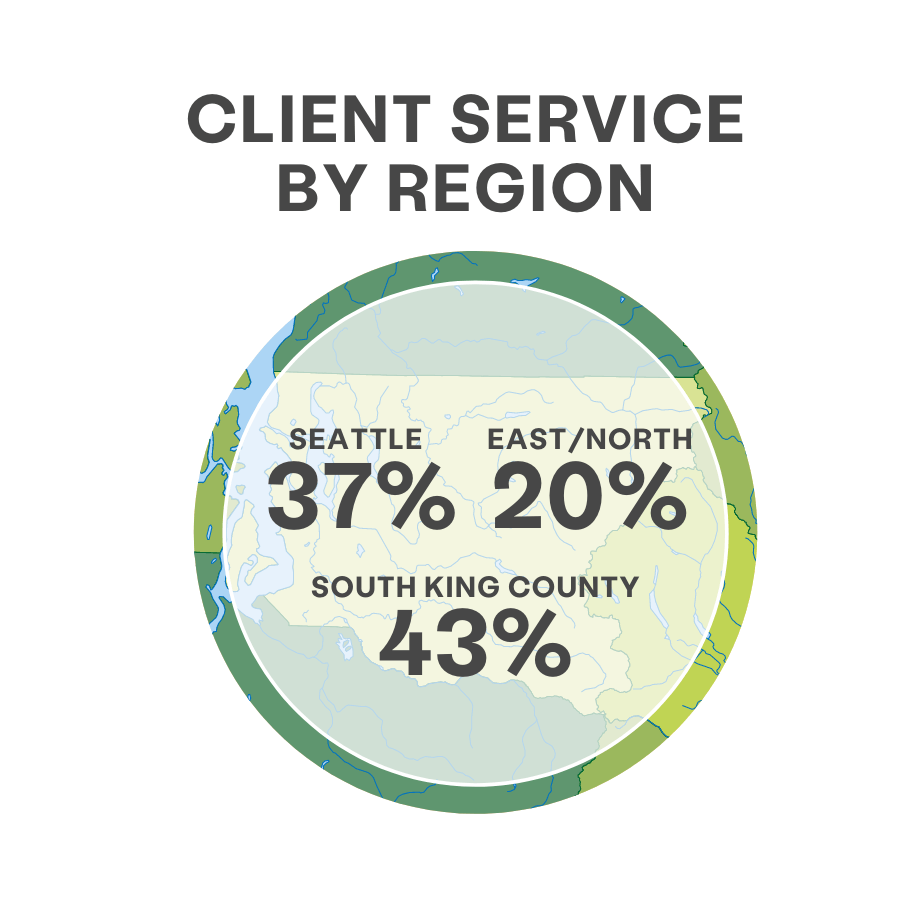 O KCSARC apoiou os sobreviventes de todas as cidades do Condado de King.
Quase metade dos nossos clientes vive em South King County.
FINANCEIRAS AUDITADAS DE 2021
Contribuições Privadas ……………………. $1.982.406
Subsídios/Contratos do Governo……. $4.977.974
Taxa de Serviço …………………………… $322,434
Misc. & Receita de investimento ……. $12,436
Receita Total ………………………………… $7.295.250
Serviços do programa ………………………… $ 5.403.690
Gestão e Geral ………………. $ 816.559
Angariação de fundos e comunicações…. $ 1, 182.319
Custo total ………………………………. $ 7.402.568
POR QUE OS DOADORES SÃO PARCERIAS COM O KCSARC
"Parabenizo o importante trabalho que o KCSARC está fazendo. Você ajudou tantas pessoas. Estou emocionado por poder apoiar esta organização tão digna e eficaz."
– Winnie Stratton
"Por quase uma década, a Sheri and Les Biller Family Foundation orgulhosamente fez parceria com a KCSARC para apoiar crianças e jovens sobreviventes de violência sexual e suas famílias. Temos a honra de apoiar os serviços abrangentes que são essenciais para todos os sobreviventes e suas famílias se curarem e prosperarem em suas comunidades".
– Audrey Haberman, CEO, The Sheri and Les Biller Family Foundation
"Conforme minhas quatro filhas cresceram, pude ver o mundo através de seus olhos. Passei a acreditar que não bastava me recusar a aceitar o mundo como ele era. Eu tive que me opor a isso. Eu quero apoiar a mudança. O KCSARC é uma ótima maneira de apoiar a mudança e a cura de que precisamos desesperadamente."
– Dave Hamilton, Presidente, Delivery Express Logistics, Inc.
"Imensamente grato por sua liderança, defesa e apoio à nossa comunidade. Continue com o bom trabalho e esperamos continuar engajados com o KCSARC e seus esforços."
– Ana Anuradhika
Indivíduos, Corporações e Fundações contribuíram com $1,98 milhões em 2021
Financiadores privados em 2021 garantiram que os sobreviventes e suas famílias pudessem ter acesso ao apoio no momento em que pedissem ajuda e não enfrentassem barreiras ao serviço.
Essa generosidade nos ajudou a inovar e aumentar nossa educação preventiva e trabalho de divulgação na comunidade. Como parceiros em nosso trabalho, os doadores capacitaram os jovens com as ferramentas necessárias para impedir que a violência sexual aconteça.
Obrigado aos nossos doadores e parceiros de 2021
PARCEIROS CORPORATIVOS E DE FUNDAÇÕES
Obrigada!
Dados adicionais e relatórios financeiros podem ser encontrados aqui.