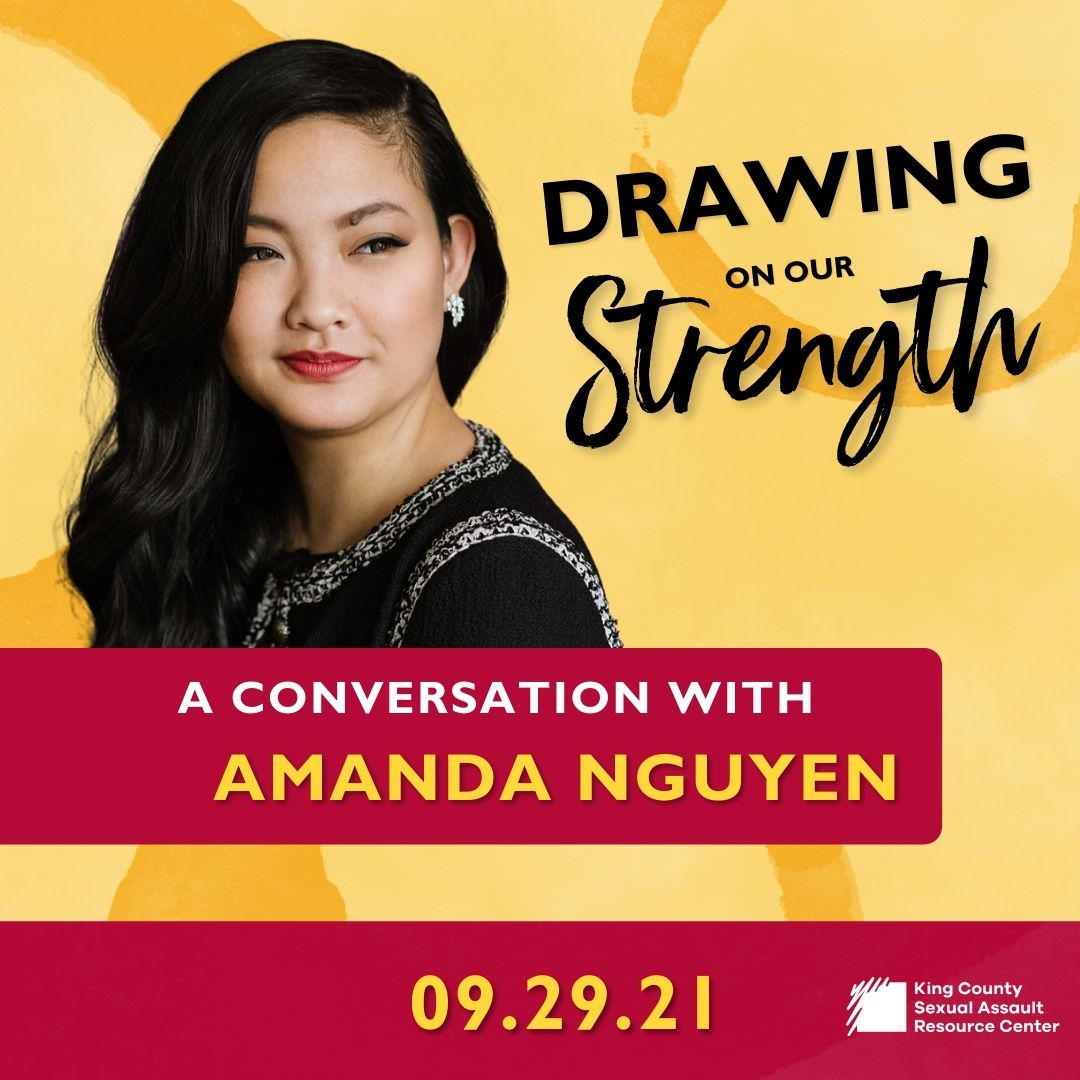 This fall, we're raising our voice  — and funds — to support survivors
Join us
September 29
12 noon
Drawing on Our Strength:
A Conversation with Amanda Nguyen
Your participation in KCSARC's fall fundraiser, Drawing on Our Strength, makes a direct impact on the lives of sexual assault survivors and their families. And you make a powerful statement about the value of prevention work in our communities to stop sexual violence from happening.
Make a powerful statement now by keeping supportive services available in our community, now and always.
Can't attend? Donate here!
About Amanda
Amanda Nguyen — a courageous survivor, tenacious advocate and internationally-acclaimed social entrepreneur who fights for justice and changes laws on behalf of survivors of sexual assault and abuse —joins us in conversation about the change we can make when we all raise our voices together.
Amanda Nguyen is an internationally acclaimed social entrepreneur, a 2019 Nobel Peace Prize nominee and the CEO and founder of Rise, a social movement accelerator, where she teaches grassroots organizing. Amanda is also an expert advisor on the Chloé Sustainability Board and her 2021 viral video ignited world-wide coverage on anti-Asian hate crimes and is credited as a pivotal moment for the Stop Asian Hate movement.
Amanda has penned her own civil rights into existence and unanimously passed the Sexual Assault Survivors' Bill of Rights, after having to navigate the broken criminal justice system after her own rape. She has trained hundreds of activists using her theory of organizing, "Hopeanomics," to pass 33 laws modeled off her federal law protecting more than 85 million sexual violence survivors. Recently, her viral video sparked national coverage on anti-Asian hate crimes.
In recognition of her work, Amanda has been named a Heinz Laureate, Nelson Mandela Changemaker, Forbes 30 Under 30, named to the Top 100 Leading Global Thinkers by Foreign Policy, Time 100 Next, Frederick Douglass 100, Marie Claire Young Woman of the Year and The Tempest's #1 Woman of Color Trailblazer. Previously, Amanda was appointed by President Barack Obama to the United States Department of State as his Deputy White House Liaison and served at NASA. Amanda graduated from Harvard University.
Preview the inspiration and energy we promise when you attend Drawing on Our Strength this year:
Thank you to our sponsors
SPOTLIGHT SPONSOR
Delivery Express, Inc.
HKM Employment Attorneys LLP
CHAMPION SPONSOR

Thanks to Visionary supporters
Beth McCaw
Thanks to Amplifier supporters
Lisa Holderman
Patrick St. Laurent
Lawton and Steve Penn
Kathleen Anamosa
Mark Lester
Piper Henry